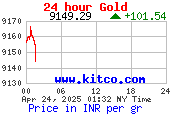 Amazing facts - Gold
Gold can be hammered so thin that sunlight can shine through it!
read more >>
Check the Current Diamond Cost Price
Important uses of diamonds that we did not think of
Most of us think of a diamond as an expensive gem that is used in jewelry; a gem that enhances the beauty of a lady`s finger or her neckline. Not many can think of this brilliant piece as an essential part of machinery. The two aspects of this gem are so diverse in association and nature that one does not really associate the two uses with each other.
Tips For Increasing Diamond Sales
The age-old adage, "One never remembers what you bought or sold or gifted, but they always remember how you made them feel", holds water when it comes to jewelry business too. It must be an old remedy but should never be forgotten or considered trivial. Always greet your customers with a warm smile and a cheerful face...read more
Ruby
The ruby gemstone is next only to the diamond in terms of hardness and pricing. For a ruby to be born in the natural environment, a perfect combination of aluminum oxide, correct temperature, correct pressure in the earth's crust and very low silicon content is a requisite. This makes rubies very rarely available gems in nature.
Gemstone info >>
News and links from the Jewelry Industry
Sunday July 23, 2017