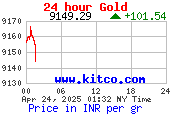 Amazing facts - Diamonds-India
Did you know India was the only major source of diamonds until the 1970 s .
read more >>
Check the Current Diamond Cost Price
Take Care Of Your Pearls!
Natural pearls or cultured pearls are very delicate gems and can be easily damaged by the surrounding conditions. Thus it is extremely important that proper care must be taken while using pearl jewelry. If proper care is taken then the gems will go on without damage for centuries.
History of diamond cuts
There was a time when cutting and polishing a diamond was considered sacrilege. It was believed that cutting and shaping the precious stone would devoid it of the supernatural power that it was believed to posses. The diamond was considered a prestigious stone and only rulers and even they were not allowed to tamper with the rough stone that was found naturally.
Aquamarine
The deep sea blue colour aquamarine gemstone is a transparent variety of the mineral group beryl. This gem stone is found in colors that vary from bluish-green to greenish-blue to blue, and its trace element is iron. This gem stone was first mined in Brazil.
Gemstone info >>
News and links from the Jewelry Industry
Monday March 27, 2017