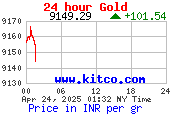 Amazing facts - Turquoise
Turquoise is usually opaque in nature, however very small turquoise crystals are formed which are transparent. These are found only in Virginia.
read more >>
Check the Current Diamond Cost Price
Ideas to promote your jewelry business
Advertising is extremely important for all businesses, irrespective of whether they are local small stores or whether they are part of large business units operating at a national or international level. Effective advertising creates awareness and maintains a positive image of the store. While you may spend your millions on the media side of a campaign, the effectiveness of the campaign depends on the idea and the content.
Facts about diamond simulants
Diamond simulants are basically gems that look like the diamond but in reality are neither natural diamonds nor those that are produced synthetically. The popularity and appeal of the diamond are responsible for the numerous diamond simulants that are floating in the market today.
Pearl
Pearls are categorized as organic gem material and are amongst the oldest of precious gems. In history pearls have been very valuable, second only to the diamond. The first record of the use of pearls in history is the fishing of the famous orient Basra pearl around the year 300 B.C.
Gemstone info >>
News and links from the Jewelry Industry
Monday June 27, 2016