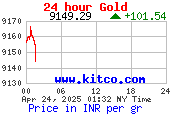 Amazing facts - Ruby
The rutile silk (needles) present in rubies, that are called as inclusions or impurity, actually help to scatter light evenly on all facets enhancing the colour of the stone.
read more >>
Check the Current Diamond Cost Price
What Is German Silver?
The name German silver or nickel silver is misleading since it has no silver con­tent, but is an alloy of 60 per cent copper, 20 per cent nickel and 20 per cent zinc. It resembles silver but instead of the soft white colour it has a yellow-grey tinge.
How To Detect Laser Drilled Diamonds ?
In laser drilled diamond a beam of high energy light is used to bore a small microscopic hair like tunnel from the surface of the diamond to the inclusion just below the surface of the diamond. Even Federal Trade Commission (FTC) guidelines for the jewelry industry did not require disclosure of the practice! Though it is considered a permanent treatment, the Federal Trade Commission has reversed its previous decision now and made disclosure of this treatment mandatory.
Emerald
The word emerald brings to the mind the lush green color of a paradisaical landscape. For thousands of years people have loved and admired the fertile green colour of the emerald, symbol of natural beauty, thus making emerald one of the most popular gem in spite of its brittle nature and difficulties found in setting this gem in jewelry.
Gemstone info >>
News and links from the Jewelry Industry
Wednesday May 24, 2017