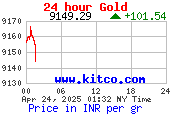 Amazing facts - Diamonds-India
In the late 1990s, India ranked first in diamond-cutting volume, followed by Israel, Belgium, New York, and Thailand.
read more >>
Check the Current Diamond Cost Price
4 Power Tips That Could Add Luster To Your Diamond Sales!
It is extremely difficult to predict what might attract a potential customer and what might not. In my ten years of experience, I have gathered some real good tips which I wish to share with you. Hope these tips help turn your first time customers into regular patrons and thus, increase your profitability.
Using A Microscope For Assessing Diamond Clarity
Even though many gemologists use a microscope to assess the clarity of a gem or a diamond, gemological experts prefer to start with using a loupe when they start and then have a detailed look with a microscope. This is specifically so because when you use a loupe, handling the diamond becomes far easier.
Ruby
The ruby gemstone is next only to the diamond in terms of hardness and pricing. For a ruby to be born in the natural environment, a perfect combination of aluminum oxide, correct temperature, correct pressure in the earth's crust and very low silicon content is a requisite. This makes rubies very rarely available gems in nature.
Gemstone info >>
News and links from the Jewelry Industry
Wednesday July 27, 2016