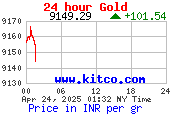 Amazing facts - Gold banned in US
The United States government had banned private ownership of gold, which lasted 41 years; then lifted it on December 31, 1974.
read more >>
Check the Current Diamond Cost Price
Kashmir Sapphires- The Real Story
Kashmir sapphires were first discovered as the result of a landslide between 1879 and 1882 in the Kudi valley near the hamlet of Sumjam in the Padar region of Kashmir in the Himalayas. With their cornflower blue color and a slight milky appearance, Kashmir sapphires are considered to be the most beautiful gemstones.
Career as a jewellery designer in India
Many times, I have come across people asking questions like, "Is there any career opportunity as a "jewelry designer?". My answer to this would be a firm "YES!" And I don't feel there would be any other field where the career opportunities would be so exciting and enticing.
Aquamarine
The deep sea blue colour aquamarine gemstone is a transparent variety of the mineral group beryl. This gem stone is found in colors that vary from bluish-green to greenish-blue to blue, and its trace element is iron. This gem stone was first mined in Brazil.
Gemstone info >>
News and links from the Jewelry Industry
Monday March 27, 2017