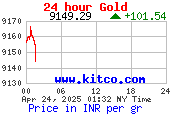 Amazing facts - Gold
Gold has been used by man for more than 66 centuries.
read more >>
Check the Current Diamond Cost Price
Important uses of diamonds that we did not think of
Most of us think of a diamond as an expensive gem that is used in jewelry; a gem that enhances the beauty of a lady`s finger or her neckline. Not many can think of this brilliant piece as an essential part of machinery. The two aspects of this gem are so diverse in association and nature that one does not really associate the two uses with each other.
What Is Diamond Appraisal ?
Diamond appraisal or diamond valuation means estimating the economic value of a diamond in terms of currency. Diamond appraisal should be done by reputed firms who are authorised to issue a certificate and who also know the current market value of the appraised product.
Peridot
For three millennia, a small desolate and forbidden island in the Red sea has been exploited for peridots. From the port of Ras Banas in Egypt small boats are still used to cross the more than thirty miles of shark infested water to reach this island called Zabargad, Arabic for this deposits of mineral olivine, from which the gem material for peridot stones is obtained.
Gemstone info >>
News and links from the Jewelry Industry
Friday August 26, 2016