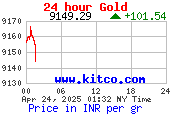 Amazing facts - Fancy Coloured Diamonds
Did you know Fancy coloured diamond literally comes in any colour one can dream of, like yellow, red, pink, purple, brown, orange, blue etc?
read more >>
Check the Current Diamond Cost Price
History of diamond cuts
There was a time when cutting and polishing a diamond was considered sacrilege. It was believed that cutting and shaping the precious stone would devoid it of the supernatural power that it was believed to posses. The diamond was considered a prestigious stone and only rulers and even they were not allowed to tamper with the rough stone that was found naturally.
Using A Microscope For Assessing Diamond Clarity
Even though many gemologists use a microscope to assess the clarity of a gem or a diamond, gemological experts prefer to start with using a loupe when they start and then have a detailed look with a microscope. This is specifically so because when you use a loupe, handling the diamond becomes far easier.
Blue Sapphire
The word Sapphire is derived from Sapphirus, which is Latin for blue. When the word sapphire is used it actually means blue sapphire. The sapphire actually exists in various other brilliant colors like yellow, orange, pink, purple and green. These sapphires are called fancy sapphires.
Gemstone info >>
News and links from the Jewelry Industry
Thursday September 29, 2016