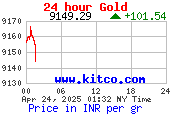 Amazing facts - Gold
Gold can be hammered so thin that sunlight can shine through it!
read more >>
Check the Current Diamond Cost Price
Important uses of diamonds that we did not think of
Most of us think of a diamond as an expensive gem that is used in jewelry; a gem that enhances the beauty of a lady`s finger or her neckline. Not many can think of this brilliant piece as an essential part of machinery. The two aspects of this gem are so diverse in association and nature that one does not really associate the two uses with each other.
4 Power Tips That Could Add Luster To Your Diamond Sales!
It is extremely difficult to predict what might attract a potential customer and what might not. In my ten years of experience, I have gathered some real good tips which I wish to share with you. Hope these tips help turn your first time customers into regular patrons and thus, increase your profitability.
Emerald
The word emerald brings to the mind the lush green color of a paradisaical landscape. For thousands of years people have loved and admired the fertile green colour of the emerald, symbol of natural beauty, thus making emerald one of the most popular gem in spite of its brittle nature and difficulties found in setting this gem in jewelry.
Gemstone info >>
News and links from the Jewelry Industry
Saturday May 28, 2016